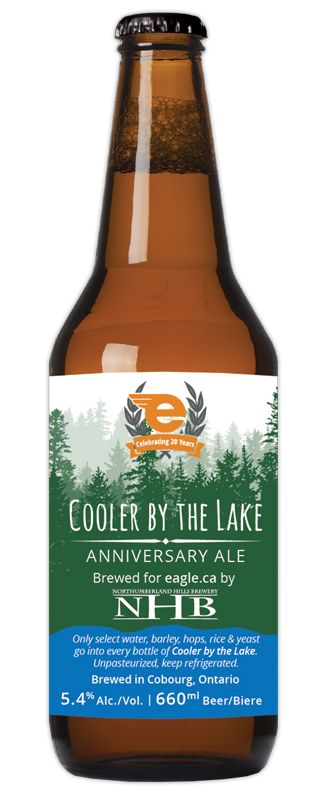 Celebrating 20 years!
Recently, eagle.ca launched Cooler By The Lake Anniversary Ale, celebrating 20 years of providing telecommunication services to the Northumberland County and beyond. A donation to the Northumberland Fare Share Food Banks will be made from every bottle sold this summer.
May 1st marked 20 years since we opened our original office at what was then 1011 William Street in Cobourg (it is now 1011 Elgin Street West).
It has been a wild and exciting ride at times. Telecom technology (and technology in general) has changed dramatically. What we can do online today vs. 1995 still astounds us and we long ago quit predicting what the next great thing will be.
To celebrate, we got together with the guys at Northumberland Hills Brewery to create Cooler By The Lake Anniversary Ale.
Cold-aged CBTL is a light-golden coloured ale with a hint of citrus and a clean after taste.
Why Cooler By The Lake?
Well, if you live along the lakeshore in Northumberland County you've undoubtedly heard summer weather reports that always note that temperatures will be "cooler by the lake." We also have a client who used to write a column called "Cooler by the Lake" for a local newspaper. And, mostly, it just sounded like a name that fit.
CBTL has quickly become the hit of the summer at Northumberland Hills Brewery. It will be available at the brewery on a limited rotating basis throughout the summer and is now available at The Mill Restaurant & Pub on tap. Our first two brews sold out quickly at the brewery. Cooler By The Lake will be back in the fridge on June 18th. Don't miss it!
The brewery is located at 1024 Division Street on the northeast corner of Division and Veronica / Patterson Streets in Cobourg. NHB is open Wednesday through Saturday from 12:00 noon to 6:00 p.m.